The title No Place Like Home was chosen due to our connection with what we consider to be "home". All of our work analyzes some aspect of home ranging from childhood memories, to cultural and religious upbringing, and even the change in the environment due to climate change. Some represent a sense of home through their connection with their body, analyze their upbringing in society, and delve into subconscious and emotional states.

The opening reception is on Friday, April 14 from 6:30 to 8:30 pm.
The exhibition is open from noon to 3 pm.

Saturday, April 15
Thursday, April 20
Friday, April 21
Saturday, April 22
Thursday, April 27
Friday, April 28 - gallery closed
Saturday, April 29 - final day to view
Carolina Yáñez is a Tejana multimedia artist primarily working with photography to explore ideas regarding Tejano culture. politics, place, gender identity, mental health and how they all intersect. Her installation highlights a traditional-turned-contemporary Mexican bingo game, 'La Lotería', established in a home environment where the game is likely to be played. Along with the game is family archives, writings, and new photographs reflecting on her familial history.
Jasmine Cogan is a multimedia artist who creates surrealistic worlds based in reality through interdisciplinary methods. In their current series, they use satirical propaganda posters and catalogs to highlight the effects the oil industry has on Texas environments and the surrounding communities. The satirical nature mocks leading companies' proud display of their exploitation of our communities while encouraging Texans to use their voices to protect our home.
Hanna Oliva is a Houston based photographer whose work often explores themes around identity, self reflection, and nostalgia. Her photographic series, Mirage of Dreams, explores the state of hypnagogia: the transition period between falling asleep and being awake. The series showcases an introspective insight of her restless and subconscious mind that displays a disorienting perspective of a familiar place.
JP Perez is a Colombian born, Houston based photographer and videographer who has an interest in the music world and gives a cinematic feel to his works. His series, Z for Zenturo, shows a collection of works before and during JP's time at the University of Houston's block program. This series showcases the development of his craft and the formation of his alias, Zenturo, who plans to become one of the best creators of Houston.
Brandon Stelly is a Houston based artist whose work looks into the sudden impact of hurricanes and tropical storms, and their effects on the lives of innocent people. In his series, Calm before the Storm: What Happens Next?, he interviewed and photographed those directly affected from these storms and the progress of natural disasters.
Claudia Chicas is a Houston based photographer who explores self-identity, gender, and sexuality through her photographs. In her photo series, she obscures a person's face utilizing a box, which is designed based on what best represents the subject. This series prioritizes the subject's personalities and encourages them to be whoever they want without the pressure of society's standard of gender and sexuality.
Ali Khoja is a Pakistani born, Houston based photographer whose work currently focuses on identity and expectations. In his current series, he becomes the subject and surrenders control to those who know him best. He gives them agency to transform him into the Ali that they wish to see.
Lucy Carranza is a multidisciplinary artist who explores the delicacy of our surroundings through a variety of different mediums. As a Latinx transgender artist, Carranza brings a unique perspective to her work, which often delves into the emotional and environmental fragility of our world. Carranza's installation piece, resembling a traditional Mexican ofrenda, honors the environment and highlights the damage caused by climate change, serving as a call to action for addressing this pressing issue.
Hailey Lassiter is a multimedia artist who explores subconscious and emotional states through primarily lens-based mediums. Influenced by her fascination with magical realism and psychology, Hailey's most recent work addresses questions of self-identity, interpersonal dynamics, and feminine archetypes through the lens of her own mental health journey. Her art serves as a tool for self-reflection and an exploration of the gap between perception and reality.
Natasha Rose Jordan is a Houston photographer specializing in self-portraiture and studio photography. Her series, Catholiccore, analyzes the aestheticization and exploitation of Catholic traditions and iconography in pop culture, especially in the era of social media.
Dranat Vazquez is a lens-based artist who explores the themes of obsolescence, abandonment, and existentialism. In their video art performance, they showcase death in the idea of preparation before one's demise. They are interested in each subject's perspective on their idea of death which is a daunting concept but should be normalized.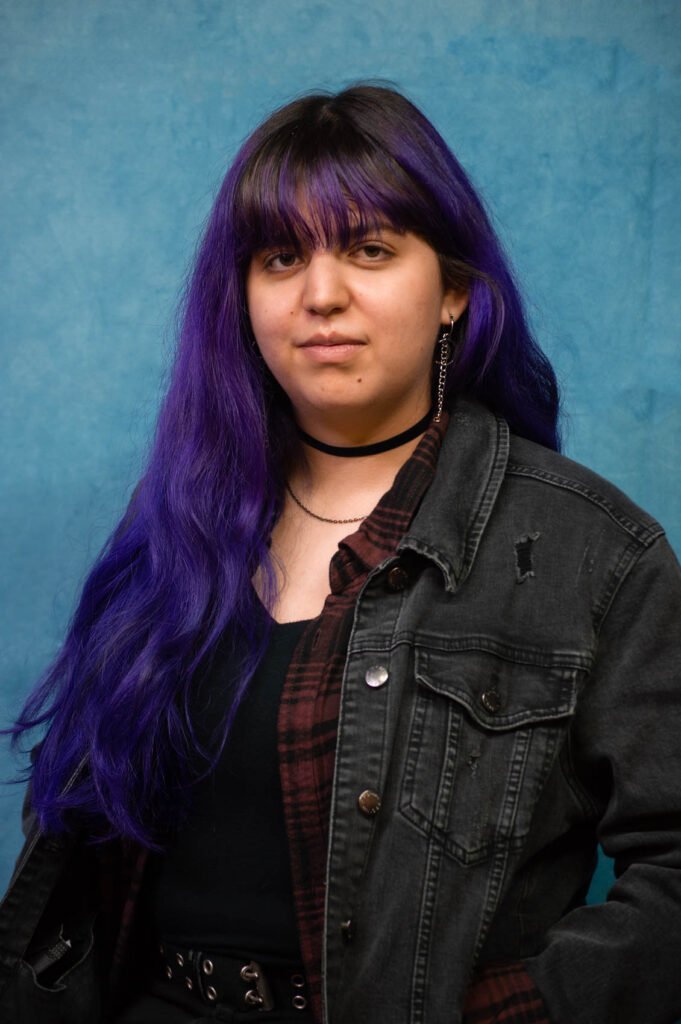 Ylei Gachupin is a photographer and multimedia artist primarily focused on conceptual and portrait works. Though she is usually exploring how to capture the whimsy of life's quiet moments, she has decided to try a more personal venture. Ylei's current series deals with themes of internalized misogyny, objectification, and its effect on identity growing up as a woman.
Alfonso Ochoa is a Houston based multimedia artist primarily working with photography. In Memoriez, Alfonso takes old images and home videos of himself and uses them to create three different concepts of memory loss, which he struggles with personally as memories of his younger self continue to slip away. Alfonso is portraying memories that can be defined in many ways so the viewers can see the struggles of losing them.